Testimonials

Bill,
Penny is doing well, fitting in and having fun. She weighed in at nearly 12 pounds at this weeks vet visit. Growing fast. As with the other dogs, she is getting her swimming lessons early so she will be safe around the pool. She seems to take well to water and looks forward to her pool time. I've attached a photo Tyler sent me from his phone hopefully your able to view it.
Tim
Penny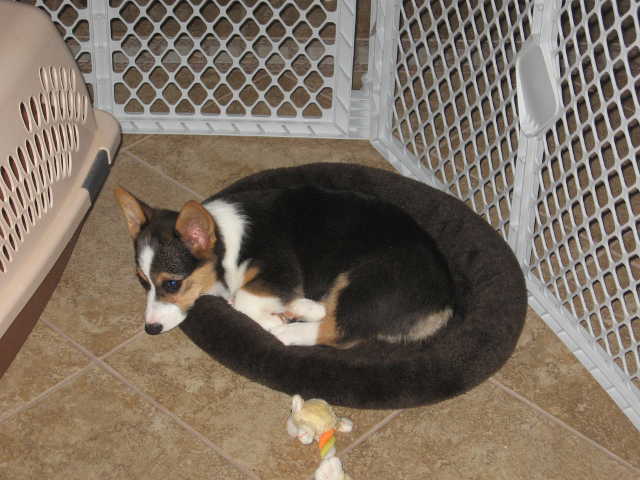 Penny
Darlene P. Idaho
I have had a number of dogs, and have always thought that each one was the most wonderful dog in the world. And then this little Corgi crawled out of her crate at the airport and into my heart forever. She is smart, brave talented, wise, playful and able to run like the wind. She dances with me in the morning, howls when I return at night and loves nothing better than to learn something new. She prefers to do things her own way, but will generally give in to my ideas after an initial look of disdain. She has already collected a fan club here in the Northwest, and everyone that meets her also wants a Corgi just like her. Her plans are to become an agility dog, show in conformation to become a champion, a traveling companion, a mother of other fine Corgis, and cuddle with me every night. I have never meet such a little dog with such a big heart!!! I will always have Corgis in my life now that I have met Alexxys.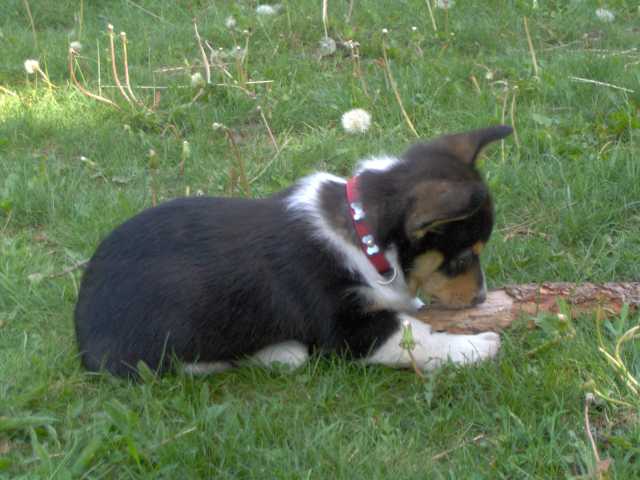 Alexxys
Hello Murphys!
I've had my precious Corgi for 6 weeks, so I thought I'd send you an update. I named her Taegan and she is growing like a weed! She is nearly 10 pounds now. She is a really good swimmer, we took her to the lake this weekend, she loved the boat! She definitely keeps me and my roommate very active. We are still trying to get the hang of house training but we're making major progress. Taegan loves to snuggle and play fetch in the yard. We could not have asked for a better puppy! Thank you soo much! I attached some pictures of her. In one she is sleeping on my backpack while I was studying for finals, SO CUTE!
Kate S.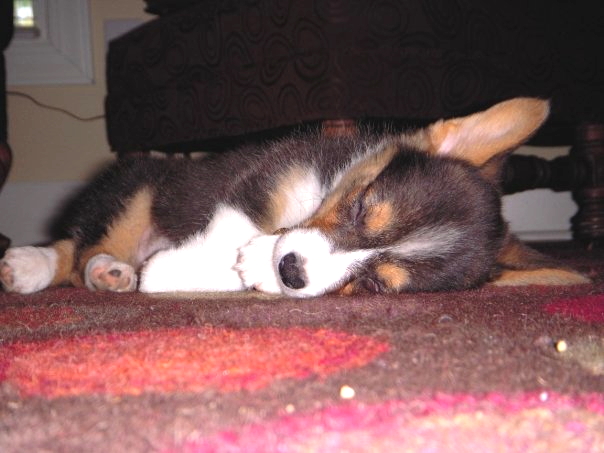 Taegan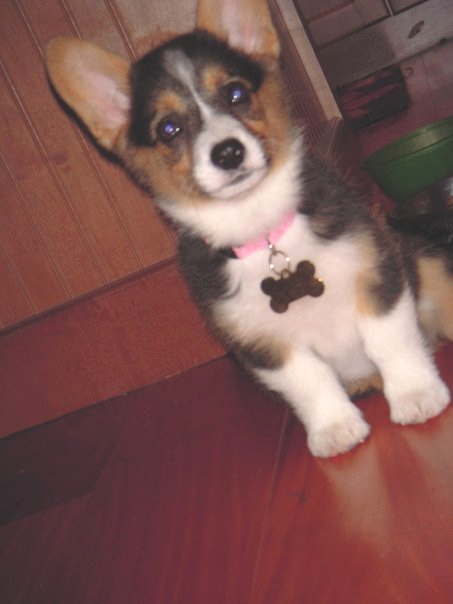 Taegan
Hi Bill,
Just wanted to letyou know that the puppy you sold me that you called (Micheal) we call (Rusty) turned one year old on the 23 of this monthand is doing very good, thanks for a wonderful dog. here are some before and after pics, thanks Harold A.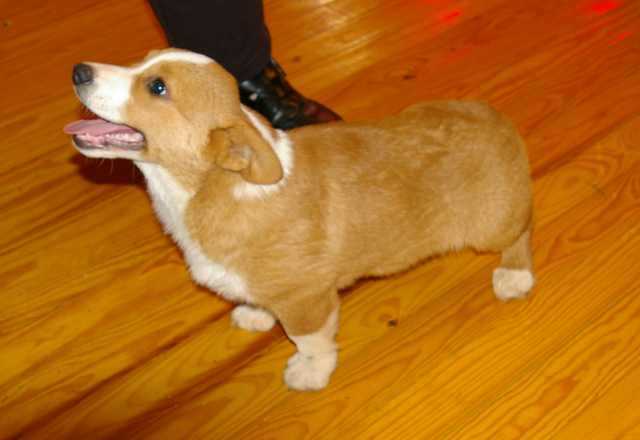 Rusty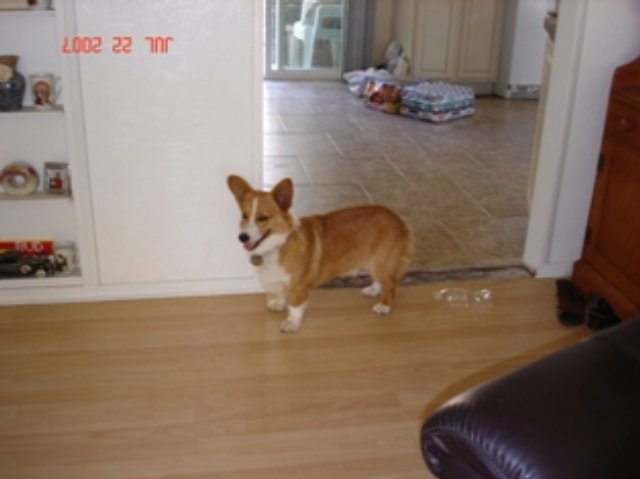 Rusty
Bill and Etta
L and I wanted to share some pictures of Vincent now that he has been in our home for 1 year! Vincent is a wonderful dog in his "teenage" years. He loves stealing anything he can get his paws/mouth on that he knows he is not supposed to have. (i.e. socks, underware, pens, drier sheets, you name it..*LOL*) He has been a true joy and companion to our family. Thanks again. We hope you are doing well. Happy Holidays. Enjoy the pics!
Vincent
Vincent
Hello Bill,
I just wanted to drop you a note and let you know that Dogzilla is doing great. She is very feisty! Our Corgi Ein just LOVES her and wants to play with her all the time, but she shows him who is boss. She is the most beautiful little girl I have ever seen. She didn't even mess in her crate on the flight. Here are some pictures of our first day together.
THANK YOU!
~Jessica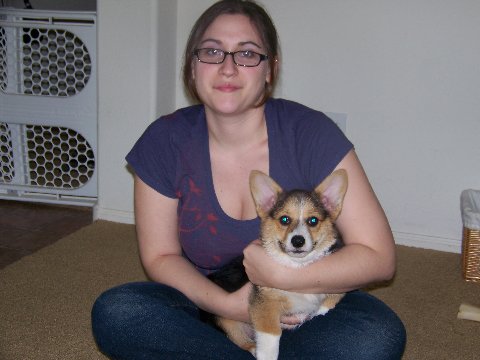 Dogzilla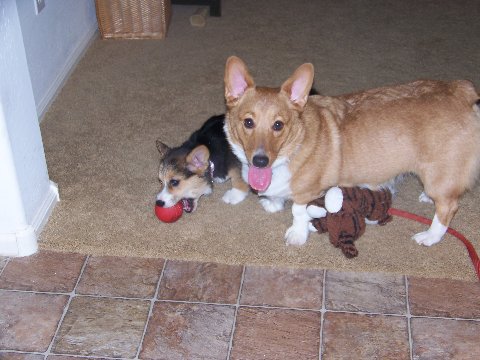 Dogzilla
Bill:
Here is a photo from when I was home on R and R from Iraq. We LOVE the puppy to death, he really is the greatest thing that has ever happened to us. I actually got sick while I was home, and he made sure no one bothered me. :D Dogs are so funny like that. We actually stole your other name and ended up naming him Joseph (we call him Joey for short). He's a big hit at the apartment complex and we absolutely love him.
Thanks again.
Alyssa H.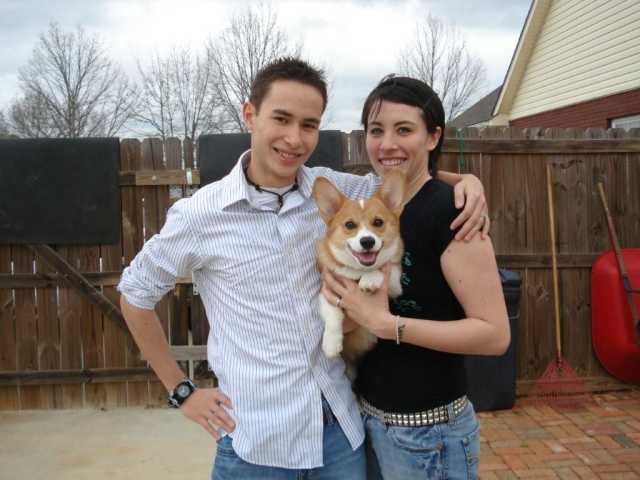 Joey
Hi Bill and Etta:
I thought I'd send along some pictures of Kona Lei aka Proud Mary and Sir Bailey, Edwin's brother. They are so wonderful and we love them so much. Both just had their final set of shots and rabies vaccination but are still on house arrest until Friday, just to be safe. The neighboring County has a small Parvo problem so we are taking every precaution to ensure these two are as healthy as can be. They love their home and their backyard although neither likes the Florida sun, it gets too hot! Ironically, Kona became Mommy's Girl and I have a constant shadow around the house! She is constantly talking, whining and making all kinds of funny noises to communicate her feelings. She's extremely intelligent and beautiful, and likes to jump everything! We've already decided to enroll her in some agility training toward the end of summer. Kona is also very sweet and loving and takes good care of her little brother. She is very regal and very reserved and constantly observing all activity around her. Bailey is a HANDFUL!!! We lovingly refer to him as mouth of the south! He likes to talk very loudly and quite often. Of course, he is Daddy's Boy and Matt has lost a couple of good shirts playing rough with the two of them. Bailey is so handsome and looks like a little stuffed animal, and he knows it! Everybody makes such a big deal over how CUTE he is. He's a goofball and a lapdog and LOVES to fetch balls, even ones that he can barely fit in his mouth! As you can tell, we are extremely happy with our new family. These two really saved my life and probably Matt's too, as they bring constant joy and love into our lives. I hope all the other babies found good homes too!
We'll keep you posted!
Ashleigh and Matt P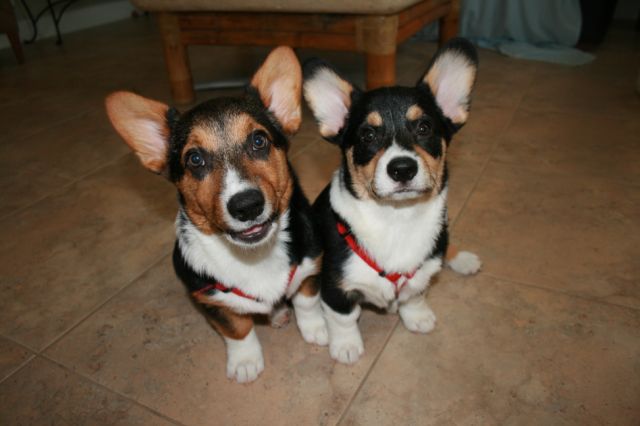 Kona and Bailey
Bill-
Hi! I hope all is well with you and your family. I wanted to keep you updated on Cooper. He is doing so great. He is such a good little boy and the kids love him so much! He seems to be happy and healthy. Thank you again for all you did to get him to me, I appreciate it and we absolutely love having him as part of our family. I have attached some pics of him, he is so cute!
Jennifer B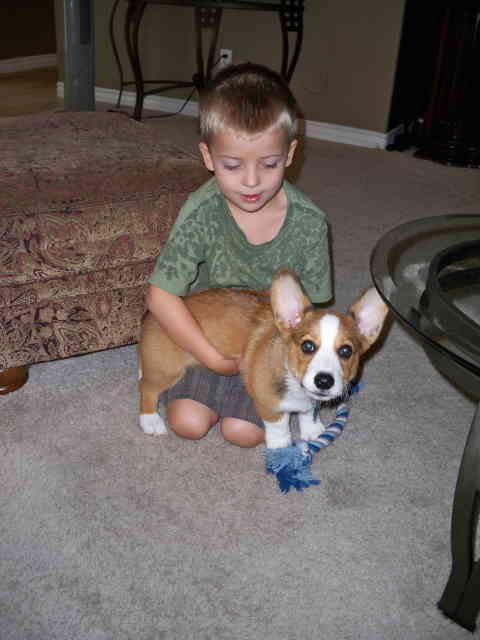 Cooper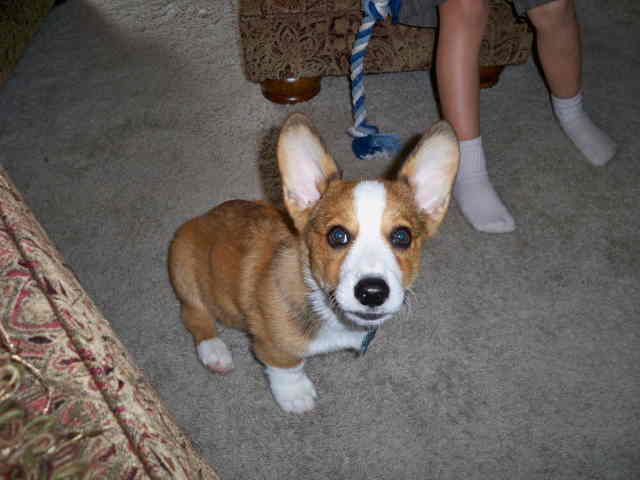 Cooper
The Emails and images appearing on this page are the property of their respective owners and are used here with the owners written permission.